Safety
Fighting Grain Silo Fires and Smolders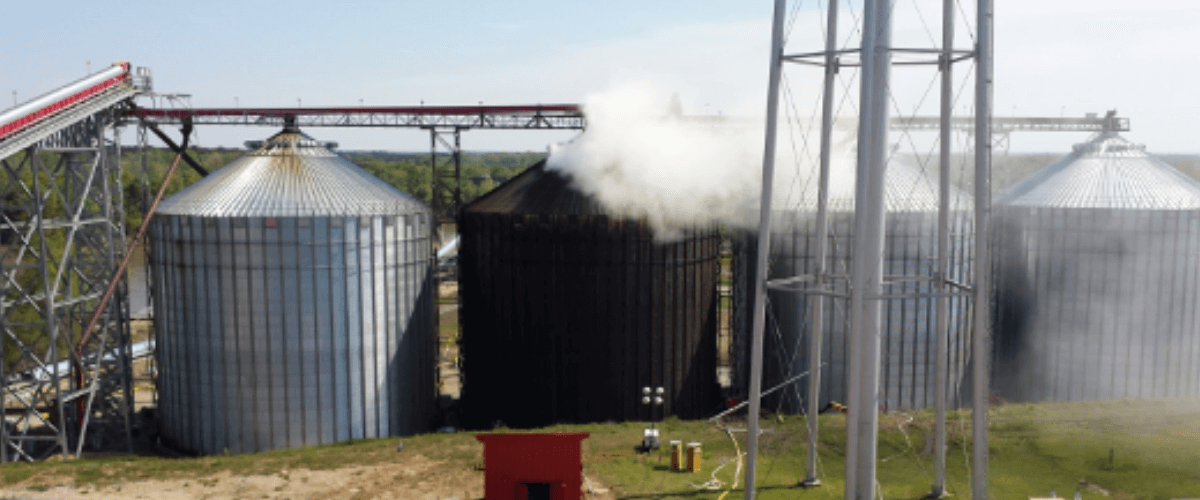 GEAPS Online Learning courses are available anytime on-demand. Each course takes approximately 10 hours to complete and can be completed at any pace over five weeks. Courses must be completed within a five-week period that begins the day you register. After registering, learners will be sent a confirmation email, then you're ready to start learning!
Cost:
$495 for members
$795 for non-members.
Course Description: This course discusses the main causes of fires and smolders in upright grain silos as well as ways to prevent and respond to emergencies. It will give you the tools to develop emergency action plans and interact with first responders.
Course Goals: This course will discuss main causes of fires and smolders in upright grain silos; examine the causes and characteristics of combustion; examine the hazards of fires and smolders (and explosions) but also potentially dangerous atmospheres that can be produced; discuss how and when the dangerous atmospheres may occur; consider how not to make conditions worse by ill-informed mitigation efforts; discuss how to develop effective emergency action plans and mitigation plans; discuss the importance of interaction with emergency responders and understand their capacity to deal with silo fires or smolders.
Note: The course offers general suggestions, but only as potential strategies that will require full and careful consideration before proceeding. It is the responsibility of individuals and companies in charge of an affected grain facility to determine how to plan for and respond to an emergency. Although many grain silo fires and smolders share similarities, they are all different. It is your team's responsibility to understand both general and facility-specific hazards and build effective emergency-action and mitigation plans on how to deal with them. Working with emergency responders before a fire or smolder occurs is highly recommended.
Target Audience: Designed for grain and processing facility operators and supervisors, safety professionals, company managers and others interested in improving their knowledge about grain silo fires and how to plan for them.
Instructors:
Mark Herrick
Cargill
See Bio
Jason Holland
Hutchinson Community College
See Bio
Bob Horvat
Cargill
See Bio
Bob Marlow
Operations Professional Services
See Bio
Bob Marlow is a consultant and training specialist providing technical and managerial training for all phases of grain facility operations, including grain quality management, facility efficiencies and maintenance/project management. Bob is a lecturer and instructor with GEAPS and Kansas State University in their Hands-On Training (HOT) Program and Grain Elevator Manager (GEM) course. He has also collaborated with and is an instructor at Iowa State University on their Advanced Grain Elevator Manager Course. Following Dr. Carl Reed's retirement, Bob continues to use both Carl's and his own materials that cover the broad managerial and technical skills required in today's challenging grain facility operations.
Julie Waltz
RCI Safety
See Bio
Julie has been educating people about safety planning and emergency response for over 25 years. She currently works for RCI Safety where her primary responsibility is helping clients with safety, health, environmental quality and regulatory issues. Julie has a Bachelor of Science from Iowa State University where she majored in industrial technology with an emphasis in education, communication and safety. She has served as commissioner and chair of the Iowa Emergency Response Commission for eight years and is past president of the Greater Iowa GEAPS chapter.
---
The Course of Study
Lecture 1 – Course introduction
Course leader Mark Herrick discusses the origins of the course and why it was developed, his experience dealing with silo fires as structural engineer at Cargill, and how knowledge, preparation and emergency planning are the best defenses in protecting your people and your company's assets if a fire or smolder should occur. The introduction also notes what the course not going to do: offer easy prescriptions about how to put out a grain-silo fire.
Lecturer: Mark Herrick
Lecture 2 – Definition of Terms
This brief segment defines key terms used in the course, and covers some basic information essential for understanding how one might choose to fight a grain-bin fire or smolder: What is fire, really? And what is a smolder? How do they differ? What does "combustion" really mean? What do we mean by dangerous gases or "explosive limits"? What is an Emergency Action Plan?
Lecturer: Mark Herrick
Lecture 3 – Hot Spots
This lecture discusses what the grain industry commonly calls "hot spots," a non-scientific and relative term indicating that pockets in the grain mass have warmed up, and where, without remedial action, a fire or smolder may be brewing. The lecture describes how hot spots are often caused and where in a bin they're likely to occur, and examines the best ways to monitor and deal with them. Notably, it emphasizes the importance of grain-quality management, including systematic temperature-monitoring and record-keeping protocols.
Lecturer: Bob Marlow
Lecture 4 – Causes and Detection of Fires and Smolders
Lecture 4 discusses some of the main causes of silo fires and smolders, including four categories that are explored in some detail: Grain-quality management problems; mechanical and electrical causes; and incidental or outside causes such as poorly executed hot work, cigarette smoking, malfunctioning vehicles or lightning strikes. The lecture also covers tools available for detecting and monitoring problems in each of the categories, including temperature cables, humidity sensors, CO2 monitors, and various types of equipment-performance sensors.
Lecturer: Bob Horvat
Lecture 5 – Hazardous Atmospheres
If you're expecting to deal intelligently with a grain-silo fire or smolder, having some basic knowledge about the nature of combustion is a good idea. Expanding on the definitions segment, this lecture briefly discusses what fire is, examines the differences between complete and incomplete combustion, and points out the potential hazards of both in and around a grain bin. Notably, the lecture discusses the hazardous gases that can develop in a grain-bin fire or smolder, including carbon monoxide, which is colorless and odorless, and which can quickly build up to lethal levels.
Lecturer: Bob Horvat
Lecture 6 – Hazards to People, Property and Product
This lecture continues the discussion about the specific hazards of grain-silo fires or smolders – both to employees at the site and the emergency responders who are summoned to deal with the problems. Lecture 6 also discusses how the hazards can affect structures and product, and how ill-informed mitigation efforts – including use of water in an effort to thwart combustion inside a bin – may lead to additional problems.
Lecturer: Mark Herrick
Lecture 7 – Managing the Hazards
"Managing the Hazards" begins a three-lecture examination of emergency planning – a core focus of the course. In this lecture, the concept of "mitigation planning" is discussed, especially as it relates to grain-silo fires or smolders. What should be considered in a plan to mitigate or deal with a bin fire or smolder at your facility? Topics include: Fighting the fire outside the silo; safely cutting holes in the bin to remove burning grain and getting the grain out safely; use of water; closing off the oxygen flow to the bin; and restricting access. Some specific hazards, including bin-rooftop dangers and flammable gases are also discussed.
Lecturer: Mark Herrick
Lecture 8 – Emergency Action Planning
Lecture 8 continues the discussion about emergency planning, and untangles the purposes of various types, including Emergency Action Plans (EAPs) and mitigation planning, Emergency Response Plans, Crisis Management Plans and Business Continuity Plans. The lecture focuses on the EAP and examines its purposes — to facilitate and organize employer and employee actions during workplace emergencies. To help understand how an EAP is often organized, the lecture emphasizes its three main parts — Governance, Procedure and Mitigation.
Lecturer: Julie Waltz
Lecture 9 – Steps for Developing an Effective EAP
Lecture 9 is a how-to presentation and walks through eight main steps for developing an Emergency Action Plan. The steps include making a thorough assessment of the facility; establishing a chain of command; determining responsibilities for specific personnel; communicating with employees emergency responders and the media; educating those who need to know about the plan; mitigation planning for specific emergencies (such as a bin fire or smolder) and practicing and evaluating the effectiveness of the plan.
Lecture 10 – Communicating & Coordinating with Emergency Responders
This lecture emphasizes improved communication and coordination between the people who manage and work at grain-storage facilities and the emergency responders summoned to the scene in case of a bin fire, smolder or related emergency. The lecture covers the types of training that volunteer and professional firefighters are obliged to have, how 911 calls are received and routed and which type of emergency response team may arrive at your facility; what types of equipment they may have available, and how it may not be immediately sufficient; the chain of command in response teams; and how grain facilities can build useful relationships with their local emergency responders.
Lecturer: Jason Holland