Augusto Bassanini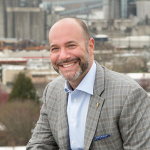 Augusto Bassanini is president and CEO of United Grain Corporation. Bassanini oversees the company's ongoing growth efforts as the premier, trusted values-based grain exporter, uniting producers and suppliers with global customers and ensuring success for all.    
The seasoned Italian-born executive joined UGC in 1999 as a Risk Manager and Senior Trader. Prior to his current role, he served as vice president of grain marketing overseeing trading and marketing activities while expanding UGC's global presence.  
As a fourth generation in agribusiness, Bassanini was born and raised in the Italian region of Lombardy, the breadbasket for the nation.  Bassanini earned a degree in Agricultural Economics at Purdue University before pursuing a career in the grain business.  
Bassanini is well-versed in grain merchandising, risk management, logistics, while focusing on talent development and creating success to the communities the company serves.  With 30 years in agribusiness, he passionately promotes US agribusiness and the local community through Board engagements in several prominent local and national organizations: Columbia River Economic Development Council (CRDEC), Pacific Northwest Waterways Associations (PNWA), Wheat Marketing Center (WMC), North America Grain Exporter Association (NAEGA), National Grain and Feed Association (NGFA).