Blair Taylor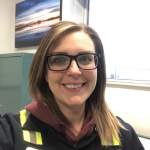 Blair Taylor is a Regional Operations Leader for Cargill, overseeing several oilseeds processing facilities across North America.  Blair has been with Cargill for eight years and worked with Bunge for about six years prior.  
She earned her Bachelor of Science in Chemical Engineering from University of Saskatchewan in 2008.
Blair has been a leader within 24/7 operations for 15 years. She is passionate on helping teams succeed.  She enjoys working with teams to develop structure and a strong team culture.