Brandee Poland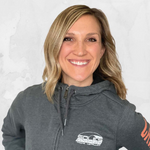 Brandee Poland has been working in the ag industry with Soles Enterprises, Inc. since 2019. Prior to that, she spent six years in marketing for an Omaha-based insurance company.
While her career has focused on sales and marketing for the last decade, Poland has a degree in education, and began her professional career as a teacher, teaching sixth and seventh grade for six years.
With each career move, Poland says she has utilized past experiences and strengths to excel in in areas with an emphasis on being dynamic, knowledgeable in her subject area, organized and excellent and building relationships.