Dave Allen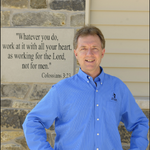 Dave Allen is a professional agricultural recruiter and owner of AGRI-SEARCH, Inc., an agricultural placement firm based in Arthur, Illinois. He specializes in placing personnel in the grain industry and working with agricultural companies and boards in management placement and leadership succession.
Dave received his bachelor's degree in agriculture education and master's degree in agronomy from the University of Illinois. After participating in the FFA Work Experience Abroad program in West Germany, Allen joined the University of Illinois Cooperative Extension Service Staff.
He served as an Illinois Agricultural Extension Advisor for 3½ years in his home county of Shelby and 4½ years in Piatt County. Allen worked for eight years as a sales agronomist for two Illinois cooperatives, Grand Prairie Co-op and Effingham Equity, before joining AGRI-SEARCH in 1999 and purchasing the business in 2001.
He and his wife Cathy have been married for 37 years and have three grown children. He enjoys spending time with family, Illini basketball, Cardinal baseball, learning German, being active in his church, Promise Keepers and the Arthur Legacy of Love Foundation.