Dr. Margaret Boyd-Owens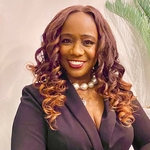 Dr. Margaret Boyd-Owens, also known as Dr. M.B.O., is the Executive Director and Owner of D VIRTUOUS DIVAS' BOUTIQUE in Pine Bluff, Arkansas. She is also the Founder and Operation Officer of Owens' Open Pantry; which provides assistive and support services to feeding students and the homeless. She is a highly respected educator, speaker, entrepreneur and community activist working to address issues of homelessness, food insecurity and other areas.
She is the Founder and CEO of Moving Barriers to Opportunities (M.B.2.O.) Consulting Services Incorporated which, specializes in data-driven, research-based evidence in areas such as: education, professional and career services, leadership, personal and social development and self-empowerment services.

She is a life-long learner and has earned her educational achievements from several colleges and universities including University of Arkansas at Pine Bluff; University of Phoenix; Capella University; G.M.O.R. Theological School and Jackson State University.
Dr. M.B.O. has served as both an adjunct and full professor at myriad institutions including: Phillips Community College, University of Arkansas at Pine Bluff, Southeast Arkansas Community College, Shorter College and the University of Arkansas at Little Rock (UALR). She has also taught Communication, Career Orientation, Speech, English, Psychology, Business, Business Management and Human Resource Management
Dr. M.B.O.was born in Chicago, Illinois. She and her husband Wallace have five children and 14 grandchildren.