Hunter Brooking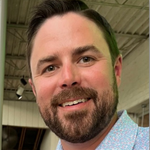 Hunter Brooking is Global Product Manager for bulk material handling and conveyor components at Dodge.
He has been with Dodge since 2012 and has steadily moved up in the company. He first worked as a product development engineer-Oracle packaging, then as a Dodge Product Specialist—Conveyor Components, then Dodge Field Sales Engineer then Dodge Sales Training Engineer before being promoted to his current position.
He earned his Bachelor of Science degree from Clemson University in 2012.