Karen Hughey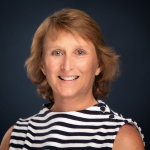 After earning master's degrees in business and human resources, Karen Hughey worked for large and small companies in all areas of human resources, learning and development. She founded KR-HR, an HR Advising Firm providing practical, simplified HR solutions. Then, Karen and co-founder Rob Hughey founded Nucleus Learning to help organizations retain, attract and engage top talent with innovative training and development solutions.  
The two companies have grown to support hundreds of companies locally and nationally. Industries served include associations, manufacturing, architecture, engineering, construction, mortgage and title companies and growing organizations. 
Hughey is excited to share people-focused best practices with leaders who realize the benefits of investing in their most valuable asset, their people!