Membership
Vote Today On GEAPS Proposed Bylaws That Meet Today's Needs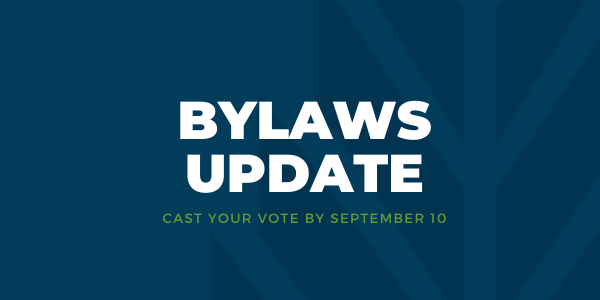 Vote Today On GEAPS Proposed Bylaws That Meet Today's Needs
New Bylaws to Meet Today's Needs
Regular Members Are Asked To Vote on New Bylaw Changes by September 10
---
If you've been reading your emails—or at GEAPS Exchange in Columbus, Ohio, you know we're working to change our association's bylaws.
You, our members, are the best part about GEAPS. Surviving the COVID-19 pandemic taught us the think and operate differently. We learned we need to be a more flexible organization to the challenges we may face—known and unknown—and we must continue to seek and receive input and engagement from all GEAPS members in supporting the mission and future of GEAPS.
Over the last several months, GEAPS undertook a project to review and revise our bylaws for the first time in more than a decade. The International Board of Directors and a task force of member volunteers set out to update our governing documents with the goals to have:
A set of governance rules that allow GEAPS to thrive now and ensure the ability to adjust and react to future unknowns.
A more agile and engaged Board.
A more inclusive and representative Board.
Clearer responsibilities for decisions made by the Board, specifically as it relates to the International Board of Directors and the Executive Committee operations and decisions.
Clearer definitions and roles for GEAPS committees.
The proposed bylaws were the result of the work completed by the task force and Board. These proposed bylaws were approved by the International Board on June 25. Because GEAPS is still operating under existing bylaws, the only members who may vote on these are Regular members. If approved, the new set of bylaws will allow all dues-paying members to vote in International elections and immediately impact the upcoming Intl Board nominations cycle.
The new bylaws would improve representation on the International Board with expanded opportunities for Associate and Affiliate members to serve as International Directors and Officers. The bylaws would also result in new board committees to ensure the enter International Board is engaged in the governance and oversight of GEAPS.
There is still time to vote
If you are a Regular member and you still have not voted, please do so before September 10. Simply respond to the email you received in July. Or visit the GEAPS Bylaw Survey online at https://www.surveymonkey.com/r/QBGS7KJ
We're here for your questions
We hope you are able to participate in the virtual or in-person Q&A sessions offered this summer. If not, you're welcome to email steve@geaps.com to ask your questions to GEAPS Executive Director Steve Records.