News & Publications
GEAPS Adds Podcast to Communication Lineup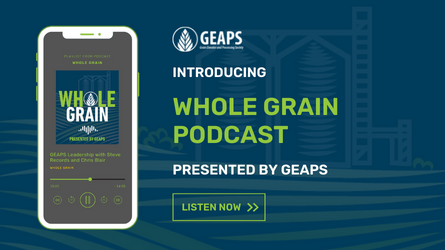 Whole Grain Podcast Available on Major Podcast Directories
MINNEAPOLIS, October 3, 2022 – Grain Elevator and Processing Society is pleased to announce an expansion to its communication lineup. Whole Grain features voices from various aspects of the grain industry and GEAPS in particular.
Tune into hear from GEAPS leaders, industry leaders and colleagues, educators and special guests. Be among the first to learn about new products and initiatives. Whole Grain is hosted by Jim Lenz, GEAPS' director of training and education.
"I have quickly come to realize the grain handling and processing industry is rich in innovation, filled with incredible designers and thinkers who are not only diverse in skill sets, backgrounds and experiences but inventive and highly supportive when it comes to safety," Lenz said. "I am excited for GEAPS members and potential future members. We have some captivating guests on the show who really help move the grain handling and processing industry forward."
Whole Grain can be found on major podcast directories including Apple Podcast, Spotify, Google Podcasts, Stitcher and Amazon Music. It is also available on www.geaps.com/wholegrain.  
Whole Grain also supplies another avenue for grain industry promotions. View GEAPS' media kit to learn more about podcast commercial pricing and opportunities for sponsored content.
About GEAPS
The Grain Elevator and Processing Society (GEAPS) is an international professional association of grain handling and processing professionals. GEAPS addresses the industry's critical grain handling, storage and processing operations needs by providing networking, professional development programs and access to a global marketplace of industry suppliers. GEAPS' global network includes nearly 3,000 individual members from more than 1,100 companies. Join our network today!  
###
Contact:
Jessica Waltzer
Communications Manager
jessica@geaps.com
763-999-4306