News & Publications
GEAPS' first South American event set for October 3-5, 2023 in São Paulo, Brazil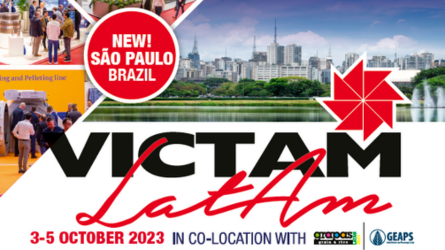 Those in the grain industry look to GEAPS for the biggest and best show in the grain industry, GEAPS Exchange. Next year, in partnership with VICTAM International, we are bringing our members and the industry another opportunity to expand their reach in the industry.
The first VICTAM LatAm, co-located with GRAPAS LatAm and the Grain Elevator and Processing Society (GEAPS), will focus on animal feed, milling and grain processing opportunities in Latin America, Oct. 3-5, 2023, at Expo Center Norte, Red Pavilion, in São Paulo, Brazil.
GEAPS Exchange historically brings together thousands of industry professionals and decision makers. Exhibiting in the GEAPS Pavilion isn't a replacement for GEAPS Exchange offered each year in late winter, but an opportunity for expansion to meet decision makers from South America and beyond. It also presents a great opportunity for GEAPS members living and working in South America.
"This is a great opportunity for our member companies who do business in South America," said GEAPS' Executive Director, Steve Records. "For those who do not do business in South America, this is a perfect opportunity to assess if that market is for you."
Booth sales for the GEAPS Pavilion at VICTAM LatAm are open! Individuals who would like to reserve a booth or who have questions are encouraged to send an email to Conferences@geaps.com.