News & Publications, Training Opportunities
GEAPS, KSU Partner for Hands-On Training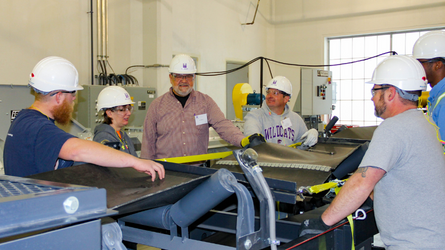 Operation & Maintenance of Conveying Equipment December 5-7 at the IGP Institute
If you're part of the "learn by doing" crowd, it's hard to top the kind of learning that occurs when you get together with other folks in your field and can, together under the instruction of experienced professional, get your hands dirty and with the equipment you work on each day.
GEAPS is happy to announce we are working with Kansas State University to offer Hands on Training for the Operation & Maintenance of Conveying Equipment December 5-7 at the IGP Institute on the campus of Kansas State University.
If this seems familiar to some of you, GEAPS and Kansas State University have worked together to bring similar training opportunities in the past. We are thrilled to bring this kind of opportunity back for our members.
GEAPS Member Carlos Campabadal, is an outreach specialist for IGP at KSU.
"The IGP Institute is very excited that the Hands-On Training focusing on operations and maintenance of grain handling equipment is coming back. We believe that this course is great training opportunity for the people in the grain industry that work on a daily basis on operating and performing maintenance on handling equipment," he said.
The training provided in this course is aligned with the needs of many GEAPS members.
"I do believe this type of training fits perfectly into the core reason GEAPS exists," said GEAPS' Treasurer Bob Horvat, Cargill.
He's not alone. GEAPS President Chuck Kunisch has seen employees from his company benefit from this training in the past.
"I do think this program is very useful to both GEAPS members and the grain industry. I am all for it," Kunisch said.

About the Course
Participants will be able to learn from five presenters over the three-day course. Hands on Training for the Operation & Maintenance of Conveying Equipment will teach participants how to safely operate, maintain and repair conveying equipment commonly used in grain facilities through instructor demonstrations and hands-on practice. The course will also provide practical information and guidelines on how to develop and implement a comprehensive preventive maintenance program.
"The information that is shared on this course comes from a combination of technical material and experience of the instructors which is invaluable. KSU is very happy to be able to partner with GEAPS to provide trainings that can help make the industry better," Campabadal said.
After successfully completing the course, learners will be able to install, operate and inspect conveying equipment. They'll also be able to troubleshoot problems and maintain the equipment, understand what could happen to grain quality if conveying equipment is used improperly and apply and perform the best safety practices and procedures on conveying equipment.
Many people would benefit from this learning experience, including engineers, project managers, grain elevator operators, maintenance personnel, millwrights and safety personnel, among others.
To get the most out of the in-person training, participants will complete three online modules before traveling to Kansas.
Registration
Registration for this course is open. If you register before November 15, you'll be able to attend for less. The course is $1,800 for members and $2,000 for nonmembers who register before the early bird deadline. After that, GEAPS members will pay $1,900; nonmembers will pay $2,100.
Space for this course is limited. Register today to ensure your spot and take advantage of early bird pricing and to allow yourself time to complete the online modules.
---
Contact: