News & Publications
MKC Cultivates Talent, Reaps Rewards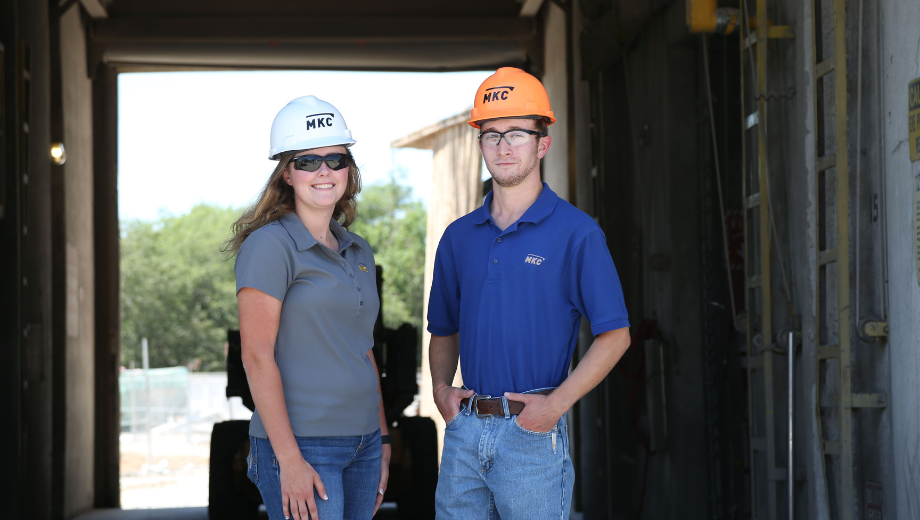 Late last month, the day after finishing his second summer working at Mid Kansas Coop (MKC), Jeffrey Garcia logged into a Teams call to chat about his experience along with others who had been in his shoes.
It appeared he had uploaded a background image of a load of hay bales.
"No, I'm out in the field," he sheepishly explained while taking a break on a hot, August afternoon. Garcia is a hard worker.
When it comes to agriculture, Garcia is all in. He is studying agronomy at Fort Hays State University, spent this summer as in intern at MKC and spent last summer providing summer help at MKC. As soon as he graduates, Garcia hopes to become a fulltime employee at MKC. Eventually, he would like to manage one of their locations.
His story is not uncommon among his peers.
While MKC has welcomed interns for several years, seven years ago the cooperative built an intentionally robust program that would provide a great work experience for college students.
"If we don't show people careers in agriculture, we will not get the type of people we need in agriculture," said Hilary Worcester, Learning and Development Manager at MKC. "We want to make sure we are telling the story of the fantastic roles you can move through at a company."
Interns are paid for their work and provided housing at a nearby community college. The program runs from late May to early August. Interns will work in a variety of areas including accounting, communications, IT, sales, general operations and more grain-specific roles.
Interns don't need to know the business, they need to have four traits: communication, teamwork, curiosity and initiative. Program leaders say they believe they can provide interns the training to build the technical skills necessary to be successful in the industry—as long as those four traits are there as a foundation.
Each intern is paired with a mentor and given a project that is directly related to MKC's strategic plan. At the end of the summer, each intern presents their project to MKC's leadership team. This is a way for the interns to show their work and growth as well as for MKC to evaluate if they should take any next steps based on the information the interns present.
"We get really excited because we see the fingerprints of past interns all over our organization. Their projects add tremendous value and help steer our path for the future." Worcester said.
Worcester was there to build the program, and now one of those interns has stepped into the role to run the program. Zoe Miller, has taken over as the coordinator of internships and student outreach.
Miller joined the meeting via Teams from the county fair. She was taking volunteer time off to lend her time and talents to the event. Like Garcia, she is so enthusiastic about MKC's intern program she juggled a few things to be a part of the conversation. She was hot and sweaty, but ready to tell her story.
It was a friend from 4-H who first told Miller about interning at MKC, then she met Worcester at a career fair.
"I was the college kid who didn't know what she wanted to do," Miller said.
MKC provided a path.
Miller's intern project was supposed to be on forage analysis. It was a dry year with terrible hay, so the idea had to be scrapped. Instead, Miller leaned on her experience with horses. Miller worked with her mentor to pivot her project to begin coordinating feed trials with horses. She showed MKC leadership she could adapt and come up with new ideas.
It's not uncommon for interns to join MKC as full-time employees. Retention among former interns far surpasses that of traditional hires.
Average retention for first hires is 50 percent after one year. MKC reports they are able to retain previous interns at 95 percent after the first year. MKC has only had one previous intern leave the company within the first year.
Josh Crosby went through the internship program at the same time as Miller. If a friend hadn't referred him, Crosby admits his life would probably look a lot different. He was studying business and marketing at Washburn University and agriculture wasn't even on his radar.
As an intern, Crosby could see what a career path might look like if he stayed.
"When you do an internship, you are able to see the career growth and opportunities," he said. "There is a different level of validity when you experience that. If I had just come to an interview, I might not have believed it. By the end of the summer, I felt more like an employee than an intern."
Crosby was an intern in the Energy Department. He now works as a location manager at MKC's Benton facility and is building a great career. He now has interns report to him.
"This is the culture and the type of people I want to work with," Crosby said about his experience at MKC.
GEAPS Member Spencer Reames, a senior location manager overseeing a pod of grain and agronomy locations, served as a mentor for both Crosby and Garcia. He's mentored several interns over the years and said he sees the value in the MKC model.
"For the past two years, we have had parents who work at competitors send their kids to our internship program," he said. "I'd say we are pretty darn good. Hilary and Zoe run an excellent program."
As a mentor, Reames gets the opportunity to learn about interns by observing them learn and work. The summer internships can serve as a three-month interview. It allows MKC and the interns to really get to know each other and decide if they are a good fit.
MKC Communications Specialist Katlin Allton helped collect photos for this story.
It's a tale she knows better than most. She first interned in 2020 and worked as summer help before that. Allton said she always knew she wanted to work in agriculture, but wasn't sure how her skills would match up with her goals.
MKC helped make the connection.
When the summer internship ended, Allton continued on via MKC's Collegiate Career Development Program. With that, Allton was able to work for MKC remotely on a part time basis and was hired on full time after graduation.
Toni Jakes, MKC's Director of Strategic Communications, is Allton's boss and mentored another intern this summer.
"You can definitely see the knowledge and experience these interns have," she said. "Kaitlin had a year experience under her belt on her first day as a fulltime employee. It's not 'Katlin, can you do this,' but 'Katlin, can you LEAD this!'"
Even thought the end of May, 2023 is a long way off, MKC has already started receiving applications. While they are proud of this success, it's not something they are keeping a secret.
They encourage others to provide these kind of opportunities in their own communities.
"If your organization is providing a great experience where interns learn and feel like they're adding value, they will see a future in it," Worcester said. "These students get really engaged in both technical and professional learning. If we provide the support for them to continue to learn and grow, they are going to stay."
What innovations and ideas are working at your facility? Email jessica@geaps.com to share your story.