News & Publications
New Media Kit Features Great Promotional Opportunities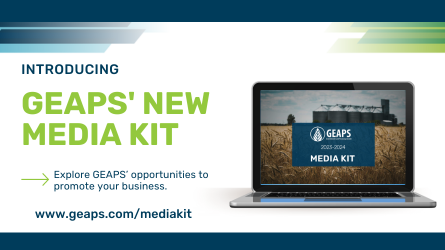 Meet Your Customers Through GEAPS
New Media Kit Features Great Promotional Opportunities
At the Grain Elevator and Processing Society (GEAPS), our mission is to champion, connect and serve the global grain industry and our members. Our vision is to be the global community and thought leader for the grain industry as we feed and fuel the world.
One of the ways we fulfill that mission can be found on the pages of GEAPS' recently released media kit. The media kit, which can be found by searching for "Advertising Opportunities" under News & Publications, features 25 pages of great opportunities to promote both our industry and your business.
When you explore promotional opportunities with GEAPS, you aren't simply advertising a product or service—you are a part of something. You are helping build these vital connections, advancing the industry and opening doors and opportunities for your industry colleagues.
You are helping us provide the networking opportunities, training, communications and resources we are known for while showing up in front of your future customers.
You are helping your business when you are in front of GEAPS members. When you advertise with GEAPS, you are in front of grain industry folks from 46 United States, six Canadian territories and 15 countries around the globe—and that doesn't even touch on the 15,000 plus industry folks on our distribution lists.
Our reach goes well beyond our members—with thousands of people from all over the world opening our emails, listening to our podcasts, tuning into our webinars and attending our events.
If you'd like to learn more about how you can get your brand in front of people who are interested in our products and services, please reach out to Susan Sarapa at sales@geaps.com.