Grain Industry News, News & Publications, Training Opportunities
Why Do They Keep Doing That?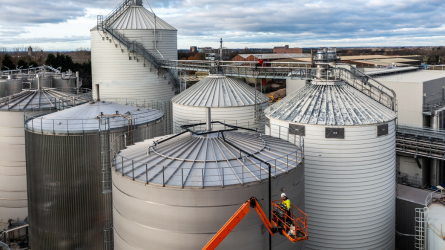 When we start each workday, we know what we should be doing.
We know what OSHA has to say about safety and we certainly know what our bosses have to say about rules. If we don't know, there likely are multiple signs hanging up at work—in the lunchroom, near the time clock, on the machines we use.
We're all smart, experienced professionals with skills good enough to get us hired.
If we are, in fact, smart, capable, informed grain industry professionals who work for companies committed to keeping us safe—why do fatalities continue to plague our industry?
Why do we, sometimes, ignore those rules and safety guards that aren't new to us?
That's what Shannon Overland and Corey Hopkins are trying to discover, and they want to invite you along for the process.
Overland and Hopkins are principal consultants at DEKRA. In their roles, they have committed their careers to keeping people like you and your coworkers safe.
"If you think of the grain industry, think of grain engulfments and grain bins, something that most of the time ends up either being either fatal or extremely serious. Why does it keep happening? Why do they keep doing it?" Hopkins asked.
Overland has a long history in safety, agricultural, oil and gas, mining and forestry. She's been a first responder and a medic.
"I've been the one to respond to situations and you never want to have to do that again. As soon as you get into those situations, you realize that despite our best efforts and our intents, there are things that we can be challenging ourselves to do more of, less of. That's where my passion comes from. It's really about 'what's it going to take?' I always like to say I'm a leadership consultant that focuses on fatality and serious injury prevention and evolving culture. It really comes down to the factor of leadership. How are we going to influence people?" Overland said.
In their workshops, Hopkins and Overland stress the ABC model, a different way to look at behavior. ABC stands for Antecedent Behavior and Consequence.
The ABC model is a longstanding model around behavior. Antecedent is what is thought to drive behavior, such as policy, rules, signage. Behavior is a lot simpler than that. Behavior is simply what somebody does or what they say. Consequences are what comes after the behavior and are specific to the individual performing the behavior, not the leader. Consequences give us powerful insight into what may influence individuals to perform a behavior they have been clearly informed not to despite the rules, warnings, and other antecedents provided.
"Typically, what happens in most organizations, we get really good at telling people what they can't do. Don't do this or do this." Overland said, talking about the desire to avoid negative consequences. When accidents happen, often more rules are added to the pile.
"If you're out there in the industry you've been told you have to tie off—and yet that harness is dirty and grungy and hasn't been replaced or it bites into my waist somewhere, those are the factors that have greater influence over that person's behavior," she said. "By simply turning around and saying 'come on you know the rule, tie off,' we're not getting anywhere. What we want to do is explore that and bring that out. There is another side of the coin."
What Could Happen?
Think of a typical day at your work. Is the team told they could die that day? Or are they reminded they need to wear their PPE?
Getting more aggressive about safety conversations is important, the two said.
Evolving culture is key, they said. Safety must be rewarded, not just meeting or beating deadlines.
"The thing that gets rewarded is getting the job done. How much grain did we take in? How many hours were we available for our customers? That sometimes challenges the safety side. We've got people that are fatigued and stressed, trying to meet deadlines. They're distracted because they have things going on at home. It's the get'er done type of approach," Hopkins said.
Hopkins and Overland encourage leaders to change the way they have conversations and encourage everyone—from hourly employees to folks in the C suite, to think about consequences.
"There is more to do than just putting out more rules. We can very intentionally change the way we have conversations," Hopkins said.
Results
This approach is working. The consultants regularly work with companies all over the world. You may have seen them at your workplace. Their results show this method works.
"We've worked with clients on implementing various processes that in the first year show a 45 percent reduction in injuries," Hopkins said.
All of us want to be safe and we all want to do a good job.
"I don't think there's hardly a person out there who doesn't have the intention that they want their people to go home at the end of the day. There are so many elements and competing factors within a business," Overland said.
"How do we create trust? How do we develop relationships? How do we create an environment where people believe through the actions and the words that 'hey, people are looking out for us," Overland asked.
Learn more
If you'd like to dive in on this conversation and take steps to keep your teams safe, please join GEAPS, Shannon Overland and Corey Hopkins for their December webinar.
by Jessica Waltzer
---
Contact: