Training Opportunities
GEAPS/K-State Receive $100,000 Equipment Donation from GSI to Help Support Hands-On Training (HOT) Program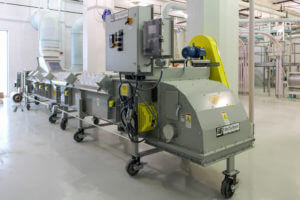 GEAPS/K-State Receive $100,000 Equipment Donation from GSI to Help Support Hands-On Training (HOT) Program
---
GEAPS and Kansas State University are pleased to announce the receipt of over $100,000 in equipment from GSI for the Hands-On Training (HOT) Program. GSI is one of two 5 Star Donors to the program.
The HOT Program is a new, interactive training option from GEAPS and K-State available for the first time in December. It teaches grain handling and processing maintenance professionals how to repair and maintain common grain conveying equipment through demonstrations, practice and immediate feedback from instructors.
"GSI's generous donation supports this innovative training from GEAPS and K-State. It also demonstrates the vital role for industry businesses in helping to fund development of programs needed to train the next generation of grain industry operations professionals to safely and sustainably feed the world," said Barb Kraft, GEAPS International president, and director of compensation and benefits, Landus Cooperative.
"We are pleased to support this important training that GEAPS and K-State are providing to the industry," said Lance Brown, GSI Global Learning and Development Director. "We're also excited about the opportunity for K-State students and faculty to work on a daily basis with InterSystems brand equipment."
The high-capacity 3i RollerFLO 3i conveyor GSI donated can handle 30,000 to 125,000 bushels of grain per hour. The donated conveyor features many polycarbonate windows to allow trainees to see different parts of the conveyor as it is running. There are also several access doors to allow internal access while the conveyor is not operating.
"There is such a need for this type of interactive training in our industry. GSI's support is helping us keep grain industry workers up-to-date on the most effective methods of keeping equipment and facilities running smoothly with minimal downtime," said Marcus Neal, GEAPS International Board chair, and director of facility operations, Lansing Trade Group.
About the HOT Program
The innovative two-and-a-half day training program has participants working in small groups to repair common grain conveying equipment.  The program takes place at Kansas State University in the Hal Ross Flour Mill. After a safety orientation, participants are divided into six groups, working on: bucket elevator, distributors, screw conveyors, bin sweep, chain conveyors and belt conveyors. Learn more about the training, or view course instructors online.
The program costs $1,375 for GEAPS members and $1,725 for non-members. It can accommodate a maximum of 30 participants. Upon completion, participants will earn at least two continuing education units (CEUs) from GEAPS and Kansas State University and a certificate of completion. Registration is now available on the HOT Program Website.
About GEAPS
The Grain Elevator and Processing Society (GEAPS) is an international professional association that supports its members and the industry by serving as The Knowledge Resource for the world of grain handling and processing industry operations. GEAPS addresses the industry's critical grain handling, storage and processing operations needs by providing the finest networking, professional development programs, and access to a global marketplace of equipment, services and technology solutions providers. GEAPS' global network of industry professionals includes more than 2,800 individual members from about 1,150 companies.
About GSI
GSI (Grain Systems Inc.), a global brand of AGCO (NYSE: AGCO), is a global leader and manufacturer of grain bins and the most technologically advanced grain dryers in the industry. In addition, GSI offers crop nutrient equipment, structures and a large selection of material handling systems, including bucket elevators and conveyors, grain bin sweeps and chain loop systems. GSI is also a full-line manufacturer of protein production systems for swine and poultry operations. With more than 40 years of industry expertise, GSI is your proven and dependable source for forward-thinking grain and protein agribusiness solutions.