Training Opportunities
GEAPS: Your Source for Online Grain Operations Training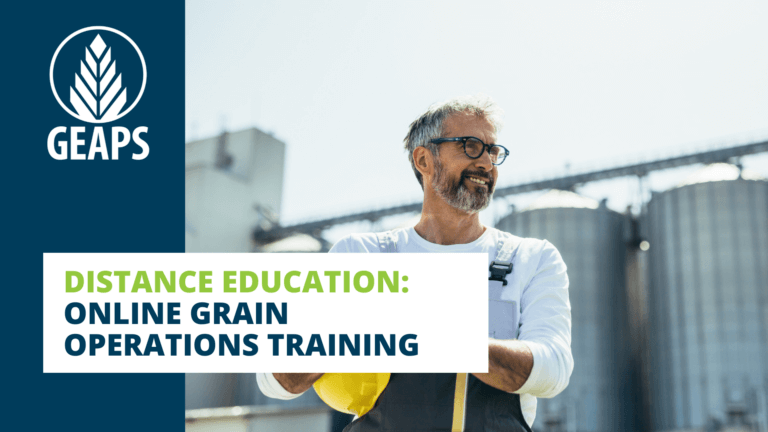 GEAPS: Your Source for Online Grain Operations Training
We face many similar challenges in grain storage and processing facilities. It can be hard to find new talent and we often have to recruit from outside the industry. We are asked to move more product with less staff than ever before. It is critically important to have a well-trained team that can not only do the job efficiently but can adapt to new technologies and processes.
The 2019 edition of LinkedIn's Workforce Learning Report found that 94 percent of employees said employer-provided learning opportunities would entice them to stay longer at a company.
Online learning courses are a great option for building your team. These Online Grain Operations Training courses are On-Demand and cover technical aspects of grain handling, including safety, grain receiving, grain quality and equipment repair.
Community of Agriculture Professionals
Our programs are built by grain industry and agriculture professionals and peer-reviewed to make sure they reflect current standards and best practices. Simply put, our courses are made by grain people for grain people. Whether you are looking to reinforce your grain safety culture, groom future facility managers or build a baseline of operations proficiency, we have grain courses that compliment your current in-house training.
Cost-Effective
Training can be expensive. Our online grain operations courses are affordable – $495 for GEAPS members – and there are no travel expenses. Courses can be completed over five weeks, so they can fit into your plant's schedule.
Specific to the Grain Industry
There is no better place to learn about grain facility operations. From entry level courses introducing the industry and a potentially life-saving safety overview to in-depth training on equipment maintenance and facility planning and design, GEAPS offers the most comprehensive course catalog in the grain industry. No matter what type of plant you run, we'll help you operate more safely and efficiently.
Employee Retention
Once you have your staff filled in, show them you value their skills by investing in their development. When you identify a promising future manager, we offer a series of courses that will help them thrive:
Not every employee is going to become a location manager. Some are motivated to continue to grow and learn. Others could use help identifying knowledge gaps and planning out a course for development. You can invest in both groups' long-term development by having them pursue a Credential in Grain Operations Management.
The credential includes six courses covering an introduction to the industry and safety concepts, grain quality management and materials handling. Each course is available anytime on-demand, so you can plan a course for development. It is a great tool you can use with annual reviews!
Build Technology Skills
In addition to building relevant work skills, taking our online grain operations training courses will help your team build new grain technology skills. They will get used to interacting with a web-based platform to access lessons and demonstrate knowledge. This will help whenever your facility needs to upgrade software or adopt new technology. This skillset is only going to become more common across labor focused industries and online courses are a low-pressure way to build proficiency.
GEAPS offers many tools to build out your grain operations team. Courses cost $495 for GEAPS members and $795 for non-members. If you are interested in purchasing 10 or more courses, group discounts are available. Contact our education team to get started today!
To learn more visit our GEAPS website at www.geaps.com/education.