Training Opportunities
Leveraging GEAPS, Women's Business Certification to Enhance a Career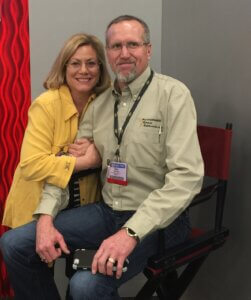 Leveraging GEAPS, Women's Business Certification to Enhance a Career
This article is an excerpt from the Jan./Feb. 2021 edition of In-Grain, GEAPS' members-only bi-monthly newsletter.
GEAPS member Katie Levens, Authorized Grain Service, Hoosier Chapter, has been a GEAPS member since 2012. She is an active volunteer with both GEAPS and the Women's Business Enterprise National Council (WBENC). She recently spoke to In-Grain about the impact these organizations have had on her career.
Tell us about your company and your career to this point.
We started Authorized Grain Service, LLC in 1996 with a structure of me having sole proprietorship and later we added the LLC. We began by servicing a four-state area specializing in truck probes and samplers. We have grown the business into servicing 31 states and my husband Chris Levens is considered the subject matter expert regarding: truck probes, samplers and dust suppression systems (oil add Dustop).
In 1979, Chris worked as the service technician for International Stanley, which later became InterSystems, now operated by GSI, in Omaha, Nebraska. He ran his own business, Dun Rite Grain, until selling the name to DigiLube in 1989. In 2018, my youngest son Cody Levens joined the company with a degree in Business Management & Human Resources from Wright State University and he is absorbing as much as possible to be the successor of AGS.
In the early days, I worked full time at Miami Township as assistant to the administrator, acquired a position with Greater Dayton Regional Transit Authority as Security and Facility Manager, and finished my public service as an intelligence analyst with Medway Technology, Inc. a consulting firm contracted with Wright Patterson Airforce Base during the Iraq and Afghanistan wars. At the same time, I continued to run the day-to-day office operations including safety compliance and warehouse inventory and parts sales for AGS.
How did you first get involved with GEAPS?
Larry Roth, who worked for InterSystems for 50 years, always wanted Chris to become a member and finally he had Chris bring me to the St. Louis Exchange and I was hooked. I loved the networking opportunities and the camaraderie that these "guys" had with one another. I remember being asked all the time if I were with the "wives" group/tour and I would boast that I was the owner of AGS! I made a point to be included in many of the events geared toward men in the beginning.
How has your GEAPS membership benefitted your career?
I was already set on a career path with AGS as more behind the scenes, but GEAPS gave me the opportunity to personally meet and greet customers as well as other vendors to network; but it is more than that, it is an opportunity to really connect as friends who I look forward to seeing every year at Exchange and we sincerely want each other to be successful.
You serve on the Exchange 2021 Host Advisory Council, what are some things members should know about the grain industry in Ohio?
Ohio is the "Heart of the Country" and we are so diversified! We have whole grain elevators, crush plants, animal nutrition, ethanol and distilleries that all use our grain handling equipment, and I would like for them all to become aware of and involved in GEAPS. I always say the truck probe is the first, most important piece of equipment that companies forget about. It acquires the first sample from the farmer/truck that determines quality and price of that commodity. If that sample is not accurate – someone is losing money.
Authorized Grain Service is certified by the Women's Business Enterprise National Council. Why did you pursue this certification?
WBENC has been a significant supporter of women and other diversified businesses, which early on was greatly beneficial. By attending chapter meetings I gained support and knowledge of business best practice information and B2B referrals.
I see it as another door that can open when I explain to a large client that they can buy direct from the manufacturer or they can buy from AGS who has the expertise and is a woman-owned business. If they support diversity in their corporate structure and I can usually sell at the same price as the manufacturer, it is a no-brainer for them.
How has your involvement with WBENC affected your career?
It has made me aware that it is tough for women to break into some business sectors such as agriculture. This awareness has transformed me to look more deeply into what really matters to my customers: product availability, follow up and courtesy – all to build trust – from a woman not normally in their industry.
---
Are you ready to use GEAPS to advance your career? Whether you are a grain industry supplier looking to expand your reach or a grain operator looking to learn how to do your job better and more safely, GEAPS has tools to help! Join today – membership is just $250 for your first year.