News & Publications
Because We are Thankful for All of You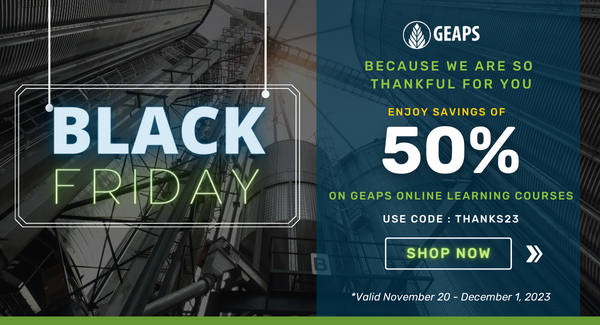 Save 50 Percent on GEAPS Online Learning Courses November 20-December 1

It's November. Americans are getting ready to celebrate Thanksgiving. The whole world is gearing up for holiday shopping. What better time to give our GEAPS family a big gift?
We really do mean big!
From Monday, November 20 through Friday, December 1, use code Thanks23 to save 50 percent on any GEAPS Online Learning course.
This is your chance to save hundreds of dollars on training that will make a marked difference on how you and your team work! Want to save more? Go right ahead. There is no limit on how many courses you may purchase with this discount. Deals like this don't come around often; don't miss out!
If you've never taken a class before, now is a great time to check out what we've got to offer. Not sure what to take? With harvest over for most folks, maybe you could benefit from learning about Management of Pests in Stored Grain or Grain Aeration.
You can even use this amazing deal on the already – discounted Introduction to Grain Operations course.

What about something else? You have several options and, again, there is no limit on how many courses you can buy at this great rate!

GEAPS Training & Education classes are offered on a variety of subjects shown to be valuable to our members. Classes can be taken whenever and wherever works best for you!
Whether you're just starting out or you are an experienced grain pro, GEAPS courses will help you and your team work more safely, efficiently and effectively. We leverage our vast network of agriculture professionals to find the best subject matter experts for our training programs.
Ready? Let's get started! Use the code Thanks23 at checkout.
Contact: