GEAPS Exchange, News & Publications
Booth Sales, Sponsorship Open for GEAPS Exchange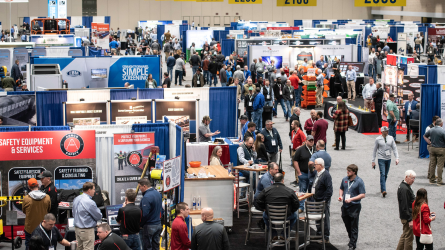 GEAPS Exchange Set for February 24-27, 2024
Grain Elevator and Processing Society (GEAPS) is excited to announce booth sales and sponsorship opportunities are open for GEAPS Exchange. The biggest and best show in the grain industry is coming to Kansas City Convention Center in Kansas City, Missouri, February 24-27, 2024.
More than 3,300 people flocked to Kansas City for GEAPS Exchange last winter. We expect similar or even greater numbers for 2024. There are great opportunities for exhibitors who want to showcase their products and services and sponsorship opportunities to meet every budget. Whether your company is a familiar face looking to connect with longtime customers or a startup making introductions, we have a space for you!
Our 2024 event expects to have more than 350 businesses on the expo floor reinforcing existing relationships, meeting new customers and generally, doing great business. There's a reason our exhibitors come year after year!  A perk of being an exhibitor is joining the priority list which ensures loyal exhibitors the opportunity to select their booth before the general public.
Austin Carpenter serves on GEAPS Board of Directors as First Vice President. A member of the Hoosier chapter, Carpenter is a longtime exhibitor at GEAPS Exchange and serves on GEAPS' Exchange Futures Committee.
"I'm excited for Exchange," Carpenter said. "With Zoom meetings becoming the standard on projects, the face-to-face time we get at Exchange is incredibly important. It's one place we can count on meeting decision makers and learn about new technology."
Act quickly; the expo floor is filling up fast. If you would like to secure a booth for your business, reach out to conferences@geaps.com.  The show floor at Kansas City Convention Center is huge, but so is interest in this great event.   
---
About GEAPS
The Grain Elevator and Processing Society (GEAPS) is an international professional association of grain handling and processing professionals. GEAPS addresses the industry's critical grain handling, storage and processing operations needs by providing networking, professional development programs and access to a global marketplace of industry suppliers. GEAPS' global network includes more than 3,000 individual members from about 1,000 companies. Join our network today!
Contact: