GEAPS Leadership, Grain Industry News, News & Publications
GEAPS Seeks New Executive Director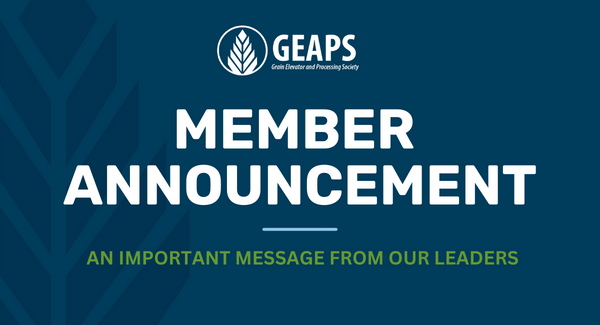 Final Interviews Slated for Early November; Candidate in Place Early Winter
Grain Elevator and Processing Society (GEAPS) is working with Hedlin Ag Enterprises of Ankeny, Iowa to find its next leader. Hedlin Ag Enterprises specializes in retained executive search for agribusinesses and agricultural associations throughout the United States.
GEAPS Board of Directors intends to complete final interviews in early November with the new director coming on board early in the winter season.
Chris Blair serves as chairman of GEAPS Board of Directors. He is leading the search internally.
"We couldn't be more excited to find the next person to work with and lead our great GEAPS staff and GEAPS membership. We all understand how important it is to find the right person for this position," Blair said. "GEAPS has held an important role for myself, and many of us, as we grow in our careers and connect with people in the industry. GEAPS also helps educate members, future GEAPS members and the grain industry as a whole. This is an important role to fill. We are confident we will find that person to serve GEAPS members and industry professionals."
The new executive director replaces Steve Records, who left GEAPS at the end of March after three and a half years. In his stead, Julia Kloehn, GEAPS' director of operations, has been leading GEAPS. Glen Gudino, president of GEAPS Media Group (GMG), has been leading the GMG team in Illinois.
To learn more about this opportunity, please visit Hedlinag.com or contact Laura Blomme at 515-444-7342 or lblomme@hedlinag.com.
About GEAPS
The Grain Elevator and Processing Society (GEAPS) is an international professional association of grain handling and processing professionals. GEAPS addresses the industry's critical grain handling, storage and processing operations needs by providing networking, professional development programs and access to a global marketplace of industry suppliers. GEAPS' global network includes more than 3,000 individual members from about 1,000 companies. Join our network today!
Contact: