Grain Industry News, News & Publications
Responding to the Labor Shortage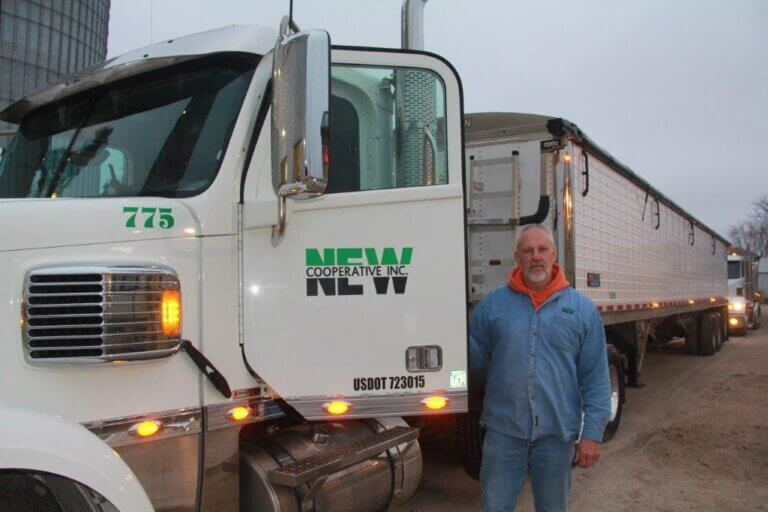 Responding to the Labor Shortage
NEW Cooperative Navigates Labor Shortage
by Jessica Foster
We've all heard the headlines. We have all felt the pain. The labor shortage is here; it is impacting the agriculture industry and challenges won't stop anytime soon. But, with careful planning, strategic approaches and creative thinking, there is a way to not only survive, but thrive.
You may know Chris Blair's name from his service on GEAPS International Board of Directors. In his day job, he works as Region 4 Manager at NEW Cooperative, overseeing operations for Grain and Agronomy in a half-dozen locations. He communicates with and supports managers when needed and oversees NEW's Regional Facility P&L, including trucking P&L. NEW operates a fleet of 150 trucks companywide. He works with his region's location managers and NEW's Grain Logistics Department in Fort Dodge, IA to dispatch and utilize 21 fleet trucks in Region 4 to haul grain, fertilizer, crop protection productions and feed ingredients. He also collaborates with managers to hire, train and mentor employees when needed. He has a lot on his plate; however, he is quick to say he is just one person of a great team who work to keep the cooperative going. He has been in the business since he started as part-time harvest help in 1998.
He's seen a lot of roles and, like many of you, understands the value of each person and relies on a team to get his job done every day.
"What keeps me up at night the most is how are we going to accomplish everything we need to accomplish every single day when there is a shortage of people not only in this industry, but in this country to fulfill our member and customer needs," he said. "Our people are what makes us who we are, and without every individual we have, as a NEW COOP TEAM, we wouldn't be able to do what we need and want to do for our member customers."
There are nearly 800 full-time employees at NEW Coop. During peak season, the number climbs to about 1,000 with the addition of part-time and seasonal workers.
Josh Coughlin manages the human resources department at NEW. He leads the HR department including recruiting, talent development, payroll, HR policies, programs, processes and systems, succession planning and benefit administration.
The labor market has challenged folks in HR across the industry to try new things. Coughlin is no different.
"We have to be flexible and nimble," Coughlin said. "The market changes fast. Social media and other technology has changed the way we interact with candidates, so we have to adapt quickly."
In order to attract quality employees, NEW Coop advertises aggressively and is in the process of implementing an employee referral program. While expanding their territories has increased their geographic labor pool, it has also increased staff needed.
"We're constantly reviewing additional sources— internally and externally," Coughlin said. "We are ramping up our presence in educational institutions at all levels, high schools, trade schools, community colleges, universities and also partnering with ag-related groups like GEAPS, the Iowa Institute and Future Farmers of America (FFA)."
Coughlin said they first started seeing the labor shortage a couple of years ago. Back then, the shortage was isolated to specific roles and locations. Like many of you, NEW Cooperative started feeling the pain more in recent months.
Increased retirements, the competitive landscape, shrinking rural populations and less people with knowledge of agriculture and among the factors adding to stress in our industry.
"Our business doesn't have the ability to automate everything, or work from home, or outsource. It is critical to have knowledgeable people to ensure we can meet the demands and do it in a safe and efficient way," Blair said.
While these are challenging times to attract talent, there are some silver linings.
"It forced everyone to really think about being efficient and creative, looking at ways we can streamline things, how we can decrease miles driven, for example. That can be beneficial from a business standpoint, but also a safety standpoint," Blair said. "Not sure I'm quite too hopeful yet, but there are some silver linings. It has created opportunities for people to grow and learn, whether that's working in a new area, location or learning a new process. I also think with new people stepping up, we'll see more and more ideas come from that. Change can be hard, but this labor shortage is really forcing some change. Some of that change is uncomfortable, and some things won't or can't change—but we I think it will force some modernization at a pace faster than what we may have historically seen."