GEAPS Exchange, Grain Industry News, News & Publications
Robotic Problem Solvers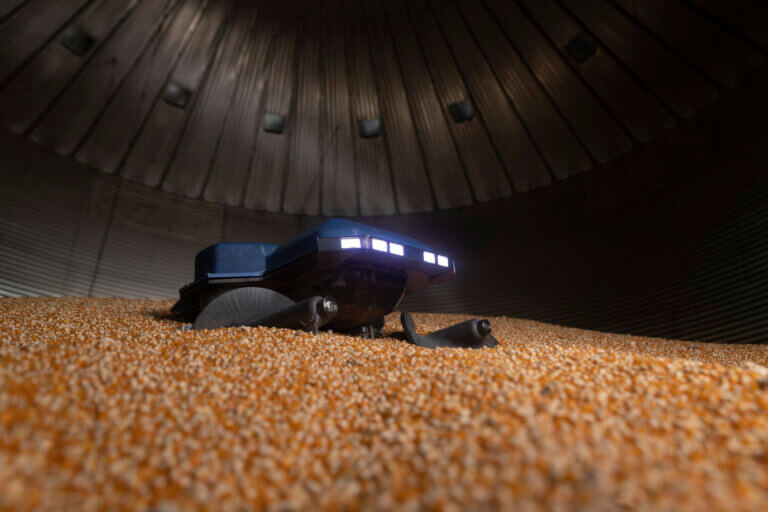 Robotic Problem Solvers: Father/Son Team Hope to Change Ag Industry
by Jessica Foster
There are few things as treasured and true and a father and son spending time together working on a project. Some build tree houses together. Others enjoy building model cars while dreaming about someday buying or working on the real thing.
Chad Johnson and his son Ben? Robots were their thing.
Their latest invention, the Grain Weevil, was presented at the Idea Exchange and Innovation Stations at GEAPS Exchange this spring. They hope that in-production robot is able to save lives one day soon.
The Grain Weevil is a surface operated robot that scurries across the surface of the grain, much like the bug with the same name. Augers on the robot's underbelly work to break up crusts and level the surface of the crop. The Grain Weevil is able to take temperature and relative humidity readings and has a camera on board and generates a 3D map of grain quality. The operator is able to inspect the quality of the grain without entering the bin.
Roots in Robotics
When Ben was a kid, Chad worked as director of education at Edgerton Explorit Center in Aurora, Nebraska. The museum is all about hands-on learning and scientific exploration. It's also a pretty cool place for a dad to work.
"He was there all the time," Chad remembers, reflecting on their early days.
Building robots started when Ben was in middle school. "We accomplished quite a bit on the competitive robotics scene, but I was looking for more," Ben explained.
As he matured, so did the robots. The father and son had a shed in the backyard where they would make things to solve problems others had.
It was a way for Chad to make sure his son had workforce skills he wasn't getting in high school and a way for Ben to spend time with his dad and make some pocket money doing what he loved.
"There were a lot of oddball jobs we did," he said.
Instead of flipping burgers, Ben spent his freshmen year doing things like creating a 3D mold for a local company, they created a rotating exhibit space for a company in neighboring Grand Island, NE to showcase their flexible bi-pod for rifles. Before long, they were working with a company in Chicago that was doing live streaming video with analytics. They wanted to expand hardware but had no money to hire engineers. Ben and Chad built robots to suit their needs. In 2018, a family friend who farmed nearby watched a video of one of their creations and had a request.
"Build me a robot so I never have to go in a grain bin again."
The request wasn't taken lightly, but the Johnsons weren't in the ag industry and knew they had a lot to learn to be successful. At first, it was an idea on a list.
"We have zero ag background and that's probably been the biggest help for us—we don't know enough to assume anything," Chad said.
They had the skills to create a robot, but first worked to understand the problem they were tasked to solve. The team asked a lot of questions and were open to learning.
After high school, Ben enrolled at University of Nebraska Omaha. There he was a part of the Engineering and Living Community. It is an environment meant to inspire collaboration. Students in the program live together and attend the same classes, working on projects together.
Ben's roommate, Zane Zents, was conveniently studying to be a software engineer. Zane saw what Ben and his dad were working on and got interested. Ben and Chad knew he had the skills they needed to be successful.
"We needed someone who could push us forward," Ben said.
They worked together and things started moving. They even entered and won the Lemelson-MIT Student Prize for innovation for the Grain Weevil. (Yes, that MIT.)
"We did not expect to win," Ben said. "Nobody going to school in Omaha
had ever won; so it's pretty amazing."
Beginnings
The Grain Weevil started in 2018. On a Saturday morning in 2020, they got it to drive on grain. By Saturday afternoon, their neighbor who is, conveniently, a patent lawyer had written a patent for the GrainWeevil. Three days later they were presenting their robot at a showing of the grain entrapment film Silo. A video of the robot in action soon had 80,000 views on Twitter. Chad, Ben and Zane knew they had something here.
Grain Industry Impact
While originally designed for a farmer, this machine could make a big impact on grain industry professionals. Many gathered to hear about the technology at Exchange, where attendees were able to use a computer to remotely operate a Grain Weevil in a Nebraska grain bin hundreds of miles away.
"If we can manage and control robots remotely, then we can change how we operate," Chad said.
Attendees in GEAPS Exchange's Innovation Stations were able to remotely control a Weevil in Nebraska. The prototype shown at GEAPS Exchange was the thirteenth version. It can run two hours with a 20-minute charge. The team is working to create six of version number 14. It should be able to run three hours with a less than 20-minute charge. The charging system is outside of the dust explosion environment.
Eventually, the robot will be able to operate without internet, though some tasks will require broadband. The robots enter and exit grain bins via a winching system.
They hope to bring Grain Weevil to market next year, with the cost yet to be determined. The inventors are committed to saving lives.
"One out of every five deaths in a grain bin is a teenage boy and we just can't have that," Chad said. "It's our mission as a father/son robotic team."
Thanks for reading Robotic Problem Solvers: Father/Son Team Hope to Change Ag Industry. More stories like this can be found in future GEAPS In-Grain newsletters. The full issue of In-Grain is available to GEAPS Members. If you aren't a GEAPS Member, you can sign up online.