News & Publications
Build Leadership Excellence in Portland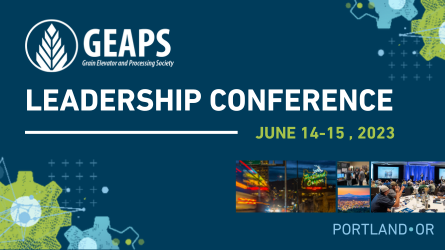 Industry, Leadership Experts to Headline Event June 14-15
An impressive roster of industry and leadership experts will present at GEAPS Leadership Conference next month. Scheduled for June 14-15 at the Holiday Inn Portland-Columbia Riverfront in Portland, Oregon, USA, the two-day conference will provide attendees with leadership skills they will be able to directly apply at work—no matter their job title.
When you're at GEAPS Leadership Conference you'll be able to learn from the best of the best! We have assembled a great leader panel and they are ready to answer your questions about how they got to the top and what they're doing with their leadership opportunities.
There are three heavy-hitting headliners for the first day of GEAPS Leadership Conference. Learn more about headliners here. To get things rolling on June 14, Ted Schick, of Schick Corporate Learning and a retired Naval officer and educator with 30 years' experience will present "On the Frontlines of Leadership." Kristen Ireland of People Spark Consulting, who many GEAPS Exchange attendees may remember from her well-attended sessions, will deliver "Leading Through Change" and Dorene MacVey, founder and head coach of ithrive 31 will talk about something we all deal with; "Proactively Managing Conflict."
The Leadership Panel includes Brian Schouvieller, Senior Vice President, Trading and Risk Management, for global grain and crop nutrients at CHS; Augusto Bassanini, President and CEO of United Grain Corporation and Blair Taylor, a Regional Operations Leader for Cargill.
"In years past we've brought in one, maybe two speakers for the Leadership Conference, but this year the team put together a collective theme, on building leadership excellence, and are bringing in an impressive line up of speakers," said Betsy Polis, GEAPS' Senior Project Manager.
"Three headliner speakers will dive deep on relevant topics that we chose based on educational survey feedback and pressing needs in the industry, including managing frontline leaders, handling conflict and leading during times of change. On top of three great headliner speakers, we are also excited to bring a Leadership panel together. We are certain that these three individuals together on stage will help you learn skills and techniques to inspire and impact you and your team," Polis said.
Registration for this conference is $295. GEAPS members save and may attend for $195.
This is GEAPS first in-person leadership conference since 2019. Visit geaps.com/leadershipconference to register for the conference and arrange discounted lodging through GEAPS.
New this year, GEAPS Leadership Conference will also include an opportunity to meet with industry vendors in the supplier showcase. While unlike the massive expo at GEAPS Exchange, this will be a great opportunity for vendors to connect with customers and for leadership attendees to ask questions and imagine possibilities in a more intimate tradeshow setting.
Exhibiting at GEAPS Leadership Conference is just $595. It's a great opportunity for suppliers to visit with customers without massive set up efforts. Simply bring your collateral materials, a pop-up banner or two and your expertise; GEAPS provides one full registration, a table and chair.
About GEAPS
The Grain Elevator and Processing Society (GEAPS) is an international professional association of grain handling and processing professionals. GEAPS addresses the industry's critical grain handling, storage and processing operations needs by providing networking, professional development programs and access to a global marketplace of industry suppliers. GEAPS' global network includes more than 3,000 individual members from about 1,000 companies. Join our network today!
Contact: