Sponsorship Opportunities
With thousands of attendees, Exchange is the perfect opportunity to show your support for the industry and expose your brand to key players.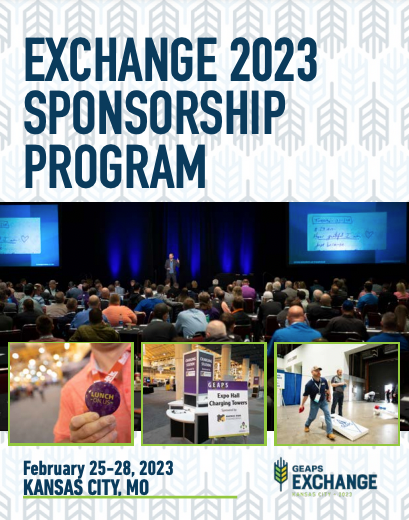 Share Your Brand With the Grain Industry
GEAPS Exchange is the grain industry's premier event, bringing grain operations and processing professionals from around the world together each year to network, share knowledge and find operations solutions. It's a great opportunity to share your brand with the industry! GEAPS offers a flexible sponsorship program so you are able to get the most brand exposure out of your marketing budget. Whether you plan on being the exclusive sponsor for the Exchange Mobile App, or want to generously provide lunch for attendees, you can pick the options that match your goals.
---
Ready to Become a Sponsor?
You will need to login so that it puts the sponsorship under your company. if you do not have a login you will have to create one.
There are five categories to choose from, so be sure to check out all the options under each!
Add the items you would like to sponsor to your cart to customize your package to meet the level.
Book your commitment online by checking out.
---
Sponsorship Policies
Opportunity Availability
Past sponsors will have a preview before the program launches to the larger audience. Moving forward, sponsorships will be awarded based on first-come, first-serve.
Sponsorship Agreement
By submitting the online commitment, sponsoring company agrees to pay the sponsorship total. Payments can be made by credit card at time of checkout or by check by selecting pay later.
All recognition of sponsorship is the responsibility of the Grain Elevator and Processing Society, as outlined in the corresponding list of benefits by level. GEAPS is willing to entertain proposals for in-kind sponsorships.
Cancellations and refunds are available only if recognition benefits have not been accrued.
---
Questions About Exchange Sponsorship?
There is no other gathering like GEAPS Exchange for the grain industry. To have so many current and potential customers in one venue is so valuable to us. We want attendees to be thinking about Hi Roller.
Mike Spillum | AGI Hi Roller
Our sponsorship keeps our name in front of the industry, and helps us attract potential customers and employee candidates.
Gene Loffler | Louis Dreyfus Company